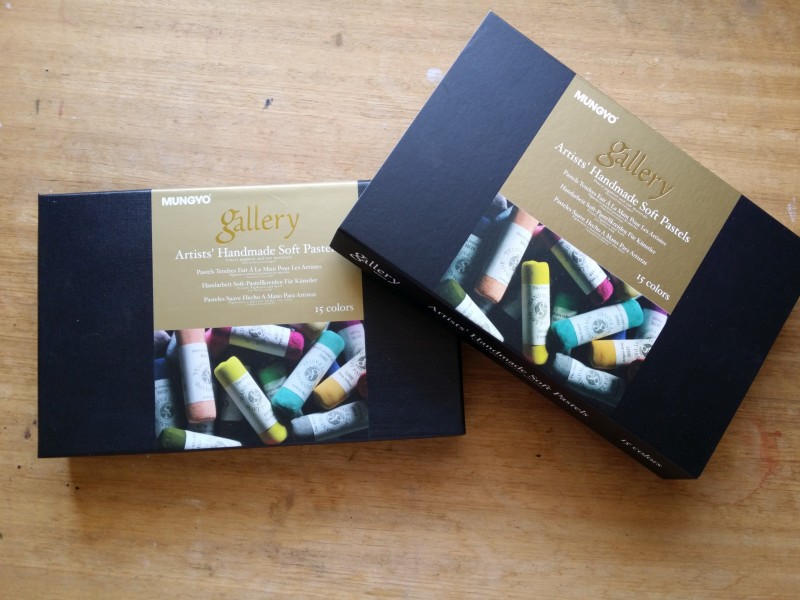 Who said that I don't have patience! OK, well it's not my foremost quality but I have exercised patience in NOT using these Mungyo Gallery Pastels that I purchased over a year ago. The reason I waited is so that I could do my own lightfast test. I wanted to do that before I committed to using them in any finished works.
Now bear in mind that I didn't use a complex scientific method in controlled conditions to test these pastels. I used the simple expedient of placing a swatch of all the colours in full light on the windowsill of my studio. Half the swatch was covered to shield it from the light. It is important to bear in mind that a painting would not be placed in such a position. It is a pretty harsh environment and ultimately a good test of how lightfast the pigments are. It should also be noted that even in artist quality materials there are some colours that are always prone to fading, such as the violets. For example, I've tested my Art Spectrum Soft Pastels in a similar way and found that some of the colours faded when place in direct light for an extended period.
So what were the results of my test? The very first thing that I noticed was not the pastel swatches it was the Canson Mi-Tientes paper that I did the test on. The fading on the paper was considerable as you can see from the photos. Unfortunately that also made it a little more difficult to fully assess the level of fading on some of the pastel colours. Perhaps I should have done the test on white paper.
Now let's turn to the pastels themselves. Overall I would have to say that the Mungyo pastels stood up pretty well. I tested two types of pastel both of which are in the "Gallery" series and are marketed as "Artist Quality".
Artist's Handmade Soft Pastels
Most of the colours showed no fading over a 12 month period in direct light. The noticeable exception was the Deep Orange (205H) which faded considerably. Lemon (105H) and Deep Yellow (125H) showed some fading but it may simply seem greater because of the fading of the paper.
Semi Hard Pastels
The majority of colours were stable. The most noticeable exceptions were the following colours:
Light Magenta (027)
Violet (030)
Deep Blue Violet (035)
Light Orange (010)
Grass Green (064)
Phthalo Green (056)
There was also fading in the Light Chrome (005) and Orange Yellow (008). Again this may be in part due to the fading of the paper.
Conclusions
Well it was hardly a stringent study done under controlled conditions but I feel that I got some reasonable results.
Artist's Handmade Soft Pastels
Overall I would be quite happy to use all of these colours except perhaps the Deep Orange. Having said that I have no doubt that under normal lighting conditions even the Deep Orange would not fade so noticeably. There are 200 colours in this series and I only tested the 15 colours that I have. (Interestingly the Deep Orange is shown in Mungyo's colour chart as having a 3 star lightfast rating).
Semi Hard Pastels
Again I would be pretty happy to use most of the colours of these that I have. There are 120 colours in the full range and I only tested the set of 24 that I purchased. However, I think that I now have a good basis for deciding which other colours in the range would stand up well (eg: I would have full confidence in the earth colours).
So there is my opinion for what it's worth! There was very little information available on these pastels. I managed to find colour charts eventually and the one for the handmade pastels gives an indication (1 to 3 stars) of lightfastness along with the pigments used. If you would like a copy then I'm happy to send one to you.